Sponsor Our Spay/Neuter Clinic
OC Animal Allies knows spaying and neutering your pets is crucial to solving the pet overpopulation problem and reducing the number of animals in shelters.
We also believe that everyone should have a chance to experience the wonderful companionship a pet can provide, but we know that not everyone has the means to afford the recommended health procedures. Currently, we offer to low income individuals and families residing in Orange County, California we are allowing them the opportunity to give their pets the best chance for a long and healthy life.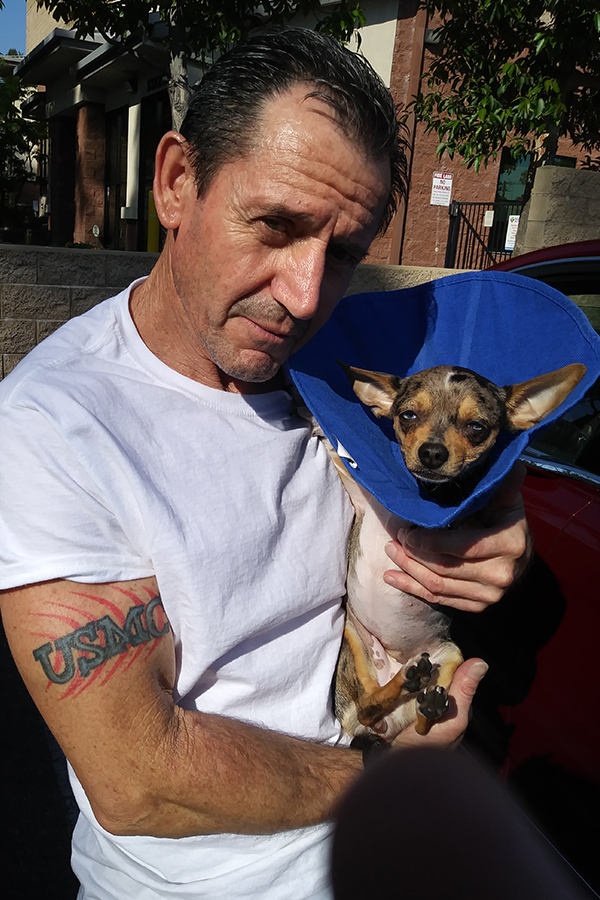 Meet Lucy Blu and her dad Ron, a disabled Marine Corps veteran who served in Vietnam.
We received these pictures after Lucy went in for her spay with one of our vouchers. Ron was gifted Lucy Blu by a friend who thought he could use the love and comfort of a dog while he was healing from ankle surgery. Ron admits he was "a grumpy person" before meeting Lucy Blu but after immediately falling in love with her, he believes she brightened his life and made him better. We are so glad to be able to assist those Orange County pet owners on fixed incomes, especially those who have served our country.
OC Animal Allies spay/neuter program issues approximately 3,000 vouchers a year and now we would love to expand this program to reach and assist even more pet owners in need.
Our goal is to host spay/neuter clinics with the help of a mobile veterinarian to provide free spays and neuters to those truly in.
We believe bringing these services to the owner who may not have access to other resources will allow us to educate about the dangers of leaving your pets unaltered in person as well as providing the actual sterilization services. Our ultimate goal is to create our own brick and mortar clinic location where we go beyond spay/neuter and introduce low cost vaccination or wellness checks to better serve the community. By helping us SPONSORING A SPAY/NEUTER CLINIC, you will be playing a vital role in helping us reduce the number of abandoned and unwanted pets.
$100.00 will help cover an uncomplicated spay or neuter for a dog
$80.00 will help cover an uncomplicated spay or neuter for a cat
We are also fundraising to cover costs for complications, vaccinations, pain medication, microchipping, and e-collars and other additional charges.
Any donation will help establish this project and expand our spay/neuter program to support animals and serve the community.
If you are business interested in directly sponsoring the spay/neuter clinic on a larger scale, please contact us directly at info@ocanimalallies.org to discuss corporate sponsorship opportunities.
Donate and Sponsor Our Spay/Neuter Clinic today
OC Animal Allies is a non-profit organization that is dedicated to supporting Orange County families and their animals. We are funded solely by the generous donations of individuals and corporations in the community that we serve. OC Animal Allies is a public charity under Section 501 (c)(3) of the IRS code, Federal ID #330257357.
Donations are processed through PayPal.